Gallery: Business leaders sound off on sustainability
By Andy Giegerich
Digital Managing Editor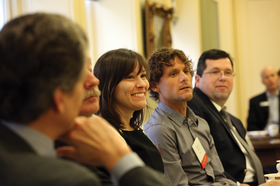 Cathy Cheney | Portland Business Journal
Participants of a Portland Business Journal roundtable wowed the audience with their views on sustainability. Click through to read what they said.
When Sustainable Business Oregon and the Business Journal want opinions, we go to the smartest people we know: our readers, who happen to be those who shape their industries' growth.
That's why, when assembling a roundtable on sustainability, we lined up eight of the sector's movers and shakers for a frank discussion on their world. We asked for their thoughts on how science shapes their operations, what the future holds in store for their predecessors and whether the word "sustainability" still means anything.
By "they," we mean Bill Campbell, Cindy Cooper, Steve Dearborn, Chris Enlow, Tom Kelly, Astrid Scholz, Peter Threlkel and Justin Yuen. They're the ones who have been, and will continue to be, around as their industry continues to thrive.
Click the photo above for a gallery featuring their thoughts.
Comments
If you are commenting using a Facebook account, your profile information may be displayed with your comment depending on your privacy settings. By leaving the 'Post to Facebook' box selected, your comment will be published to your Facebook profile in addition to the space below.