Greener goods help paint happier, healthier picture
By Andy Giegerich
Digital Managing Editor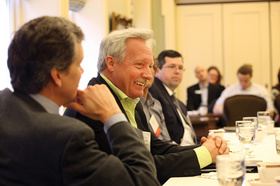 Cathy Cheney | Portland Business Journal
Miller Paint's Steve Dearborn loves that his industry is moving away from oil-based paint.
Just 20 years ago, paint manufacturers struggled to fill demands from pro-environment contractors who requested paints with low quantities of volatile organic compounds.
Yet when federal legislation finally forced them to reduce VOC levels in 1999, Portland-based Miller Paint was ready. The company, which specializes in paint manufacturing and retail, is close to the zero level in terms of its VOC-containing inventory. Most of its products have no VOCs.
"We've always been a zero-discharge manufacturing facility," said Steve Dearborn, the company's president and CEO. "What our product offers is evolving away from alkyds to latex, latex being water-based and alkyds being oil-based. Now, just 2 percent to 3 percent of our products are alkyd. The industry is going solvent-free and that's why alkyds are always moving out of the product mix, and that's a good thing."
A year from now, Dearborn believes Miller will be out of the VOC realm completely, which, because the water-based products aren't flammable, should reduce the company's insurance premiums.
Dearborn and several participants in a March 8 Portland Business Journal roundtable on sustainability, said chemistry issues related to paint and adhesives continue to represent a critical horizon in green building.
---
---
It helps that Dearborn and other roundtable participants are from Portland, where consumers in the local market have long demanded the safest building products possible.
The movement toward green materials means that businesses learned that chemistry, in the literal, scientific sense, matters.
Comments
If you are commenting using a Facebook account, your profile information may be displayed with your comment depending on your privacy settings. By leaving the 'Post to Facebook' box selected, your comment will be published to your Facebook profile in addition to the space below.