Collaboration key in the future of sustainability
By Andy Giegerich
Digital Managing Editor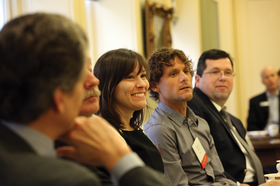 Cathy Cheney | Portland Business Journal
Impact Entrepreneurs founder Cindy Cooper says social investing will be sustainability's next big thing.
The future of sustainability, as both a commercial and practical concept, depends largely on businesses' abilities to work with each other.
And if responses to a question about the field's evolution during a March 8 Portland Business Journal roundtable are any indication, businesses are off to a pretty good start. The responses, from industry leaders weighing in on sustainability's future, suggest that collaboration has already begun at nearly operational level.
That includes partnerships between such groups as Impact Entrepreneurs, atPortland State University's School of Business Administration, and the social investment businesses to which the PSU group provides assistance. It includes contractors and their suppliers, such asMiller Paint Co., working together to build healthy structures. And it includes governmental entities such as Oregon's business licensing division which has improved its customer service by taking key registration programs online.
The roundtable, which addressed sustainability issues, attracted a bevy of noted green-industry veterans.
For instance, Tom Kelly, president and CEO of Portland's Neil Kelly Co., oversaw some of the region's first Leadership in Energy and Environmental Design work in the year 2000.
---
---
He recalls once taking a request for proposals to local architects and receiving few responses.
The firm that won the bid had done so because it enlisted a green-industry consultant from Seattle.
"When you think back to that, embracing the architectural community in Portland and Oregon, it's a phenomenal piece of history there in the last 12 years that I wouldn't have imagined at the time," Kelly said. "There's now so much expertise in green construction, and that change is transformational by itself and it's been a short period of time.
Comments
If you are commenting using a Facebook account, your profile information may be displayed with your comment depending on your privacy settings. By leaving the 'Post to Facebook' box selected, your comment will be published to your Facebook profile in addition to the space below.