'Worst polluters' tour targets noted Portland businesses
By Lee van der Voo
Contributing Reporter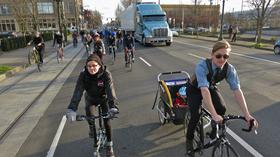 Cyclists took to the streets March 18 to call attention to Portland businesses they say have ties to pollution.
The businesses include such Portland mainstays as ESCO Corp., David Evans and Associates and the city's largest law firm Stoel Rives LLP.
---
'Worst polluters': Scenes from the ride
---
Organized as part of a national week of action to raise awareness about tar sands mining and the Keystone Pipeline, the "Portland's Worst Polluters Tour" rallied about 40 cyclists along a 6.5-mile loop. It made stops at eight businesses, delivering letters of protest in some cases, short speeches and cheers in others. In one instance, the group delivered a bag of coal.
Nicholas Caleb, a non-practicing attorney and a professor at Concordia University who helped organize the event, said he and others have researched the pollution activities of local companies.
He said the event aimed to raise awareness about areas in which Portland and local companies can improve. The group paid particular attention to TransCanada, the main investor behind the Keystone Pipeline, and its efforts to transfer oil mined from tar sands across the continental United States to Texas.
TransCanada has an office in Portland.
"Portland has a reputation of being a very green city and in a lot of cases that's not true," said Caleb, pointing to what he said is poor air quality in some neighborhoods, and ties between local companies, the tar sands and pipelines.
In releases to the media, organizers also noted concerns with the Portland Superfund site, the Columbia River Crossing, and local ties to natural gas fracking as areas where Portland could improve its environmental footprint.
Comments
If you are commenting using a Facebook account, your profile information may be displayed with your comment depending on your privacy settings. By leaving the 'Post to Facebook' box selected, your comment will be published to your Facebook profile in addition to the space below.