Furman: Coal war led to Gunderson layoffs
By Andy Giegerich
Digital Managing Editor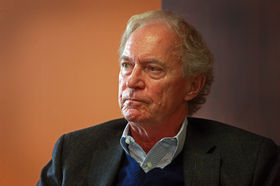 Cathy Cheney | Portland Business Journal
Greenbrier CEO Bill Furman said battles with activists over the Willamette River's health and coal exports have soured him on Portland's business climate.
As Greenbrier Cos. plans to lay off at least 200 workers at Portland's Gunderson LLC plant, the company's CEO affixes much of the blame on the region's environmental policies.
Bill Furman specifically called out state policies regarding Ambre Energy's Morrow Pacific project, about which Oregon Gov. John Kitzhaber has expressed concerns. The project has been delayed.
He's also wondering how Portland officials will address the developing situation around the Portland Harbor's Superfund site.
Gunderson is relying on the Ambre project to deliver on a $55 million barge-purchasing agreement reached last summer. The deal called for the company to build 15 enclosed barges. Furman said at the time the work would have created "hundreds" of jobs.
Furman called the Ambre effort a "highly environmentally perfect project, a model project. If we're going to export coal ever, this is the sort of project we should be" using to export it.
"The silliness around this coal export is making Oregon look somewhat foolish," Furman said during a Portland Business Journal/Sustainable Business Oregon interview last week. "This coal is going to go to Korea, which, last time I looked, South Korea was one of our most important allies in Asia. They have incredibly clean use of coal there, much more than in the U.S.
"So the whole flap about coal with Ambre is amazing and it's making us look foolish and it's making Oregon look foolish. It's attracting the wrong kind of attention."
At least one member of the Power Past Coal coalition that opposes the Morrow Pacific project disagrees with several of Furman's points.
Comments
If you are commenting using a Facebook account, your profile information may be displayed with your comment depending on your privacy settings. By leaving the 'Post to Facebook' box selected, your comment will be published to your Facebook profile in addition to the space below.