Gallery: How PSU digs into New Seasons (and others') trash
By Andy Giegerich
Digital Managing Editor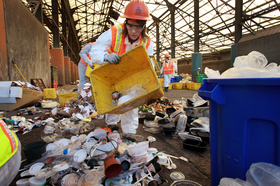 Cathy Cheney | Portland Business Journal
PSU's Community Environmental Services team performs audits of waste to determine the levels of which materials can be averted from landfills. Click through for a gallery of how a waste audit works.
On the heels of news that New Seasons Market is officially a zero-waste company, we dispatched photographer Cathy Cheney out to take a look at what the audit processes New Seasons went through actually entails.
Cathy gamely visited the Metro Central Transfer Station with Portland State University's Community Environmental Services team to dig through a little waste. Well, actually, the CES unit did the digging. Cathy had an easier job. She chronicled the efforts. And, because you're likely wondering, she said her exposure to the anticipated garbage stink was minimal.
---
Waste not: Behind the scenes of a waste audit
---
The CES team performed the waste sort on a cross-section of campus waste, including tossed items from dorms, classrooms and campus eateries.
The statistically significant trash sample — it's more than 10 percent of all campus waste — is sorted by type and materials. It's also weighed and photographed, to demonstrate volume.
CES will use the data to provide a detailed report back to the university about what the waste picture looks like and what waste could be diverted.
For instance, a pile of orange peels could suggest the need for more readily available composting bins. A mountain of disposable coffee cups hints that PSU might consider launching a reusable cup campaign. CES used the same analysis with New Seasons as it ascertained that the grocer keeps 92 percent of its waste out of landfills.
Click on the gallery above for Cathy's report.
Comments
If you are commenting using a Facebook account, your profile information may be displayed with your comment depending on your privacy settings. By leaving the 'Post to Facebook' box selected, your comment will be published to your Facebook profile in addition to the space below.