Gallery: Kettle Brands' community garden rights the chip
By Andy Giegerich
Digital Managing Editor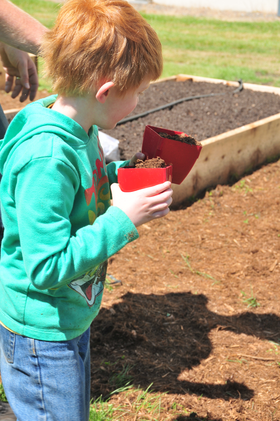 Click through for a glimpse at how Kettle Brand's new community garden both feeds Salem-area's neediest residents — and educates Kettle employees' children on the joys of gardening.
Kettle Brand's new community garden, which opened this week in Salem, neatly perpetuates the company's image as a green agriculture stalwart.
The 17-plot garden is irrigated with recycled potable water from the Bakes potato chip production line. As such, it's another link in the chain that makes Kettle's plant a zero-waste facility.
---
Waste not: A look at Kettle's community garden
---
What's more, vegetables grown in the garden, which is sown by Kettle's workers, go to the Marion-Polk Food Share program.
Kettle opened the spot as part of the 30-year-old Natural Promise program, which includes pledges to not use genetically modified ingredients as well as to recycle cooking oils and other production matter. Kettle also uses a rooftop solar array that reduces its annual carbon emissions by 65 tons.
Click on the gallery above for a look at how Kettle's new employee community garden adds to its sustainability cache.
Comments
If you are commenting using a Facebook account, your profile information may be displayed with your comment depending on your privacy settings. By leaving the 'Post to Facebook' box selected, your comment will be published to your Facebook profile in addition to the space below.