Gallery: Polaris is ready to ace its tests
By Lee van der Voo
Contributing Reporter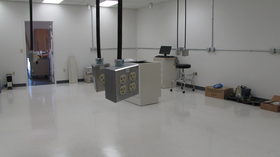 Lee van der Voo for Sustainable Business Oregon
Polaris Battery Labs is prepping for its opening following siting of the facility, a new grant from ONAMI via Portland State University, and deals with several initial customers. On move-in day, the power and vent hoods were among the few things in place.
Oregon's only battery testing lab, which could play a critical role within the state's developing electric vehicle industry, is set to throw open its doors June 1.
Polaris Battery Labs' Beaverton facility is armed with $50,000 from Drive Oregon and another $850,000 from an unnamed, but enthusiastic, investor. It's working with such groups as the Oregon Nanoscience and Microtechnologies Institute and Portland State University to advance its technology.
---
Testing, testing: An early look inside Polaris Battery Labs
---
The lab is another salvo in Oregon's efforts to cultivate the EV sector that has captivated alternative transportation advocates and car buffs alike.
Click on the image to the right for a few pictures of the lab, as well as explanations as to how the endeavor will work.
Comments
If you are commenting using a Facebook account, your profile information may be displayed with your comment depending on your privacy settings. By leaving the 'Post to Facebook' box selected, your comment will be published to your Facebook profile in addition to the space below.