Gallery: UO students hope SPRNG's eternal
By Andy Giegerich
Digital Managing Editor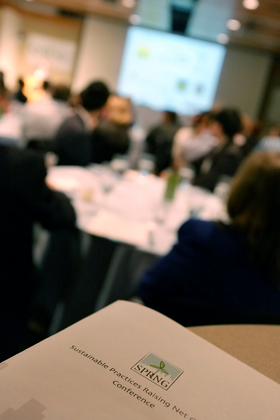 The Sustainable Practices Raising Net Growth (SPRNG) Conference attracted a stellar group of professional attendees, business students and nationally known speakers. Click through for a glimpse at the student-run event's happenings.
Last week's Sustainable Practices Raising Net Growth program, or SPRNG, delivered exactly what it promised: Reams of information for curious, as well as industry onlookers, looking for insight into responsible business practices.
The first SPRNG conference — it almost certainly won't be the last — provided deep analyses from such business leaders as Gerding Edlen's Mark Edlen and The Freshwater Trust's Joe Whitworth.
---
SPRNGtime: A look at the first annual SPRNG Conference
---
As co-organizer Ryan Seo put it, the conference can help interested parties "create a much larger impact towards our goal of fueling change with the power of business."
As the very first SPRNG conference, this was a perfect time to collaborate outside of the confines of the campus. This also meant that we could make it as unique as we wanted- making sure we included everything we wanted from other conferences we have attended.
While there was plenty to glean from the conference's speakers, there were also plenty of memorable moments, captured by a gaggle of UO photographers. Click to the right for a pictorial guide to SPRNG.
Comments
If you are commenting using a Facebook account, your profile information may be displayed with your comment depending on your privacy settings. By leaving the 'Post to Facebook' box selected, your comment will be published to your Facebook profile in addition to the space below.