Going for gold at the Oregon Convention Center
By Wendy Culverwell
Staff Reporter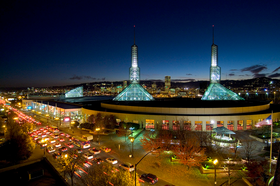 Metro wants the Oregon Convention Center to achieve a LEED gold rating.
Metro is investing $75,000 in a bid to gin up the Oregon Convention Center's LEED rating from silver to gold.
Metro news editor Nick Christensen reports on the campaign to improve the overall efficiency of Portland's massive convention center in a Monday article.
The center qualified or the U.S. Green Building Council's LEED Silver rating in 2008, an important distinction that it has used to leverage business from convention organizers who want green meeting facilities.
Christensen reports Metro isn't seeking the highest "Platinum" designation because the convention center's physical structure prevents it from making use of natural light, for instance.
But it can better manage its waste stream, and the new effort centers on that. The center recycles 70 percent of its waste. The goal is to increase that to 75 percent, Christensen reports.
The convention and meeting industry supports 1.7 million jobs, $263 billion in spending, $14.3 billion in federal taxes and $11.3 billion in state and local tax revenue, according to the Convention Industry Council.
The Oregon Convention Center hosts 469 events and attracts 570,000 visitors according to the most recent economic impact statement. A consultant estimates it generated $449.6 million in economic activity and supported 4,260 jobs in the 2010-2011 fiscal year.
Comments
If you are commenting using a Facebook account, your profile information may be displayed with your comment depending on your privacy settings. By leaving the 'Post to Facebook' box selected, your comment will be published to your Facebook profile in addition to the space below.