Lisa Sedlar shows Green Zebra's stripes
By Andy Giegerich
Digital Managing Editor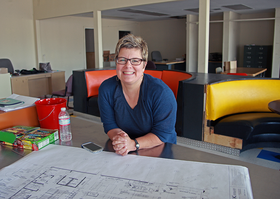 Cathy Cheney | Portland Business Journal
Lisa Sedlar is psyched about her incoming grocery Green Zebra's Southeast Division Street and 50th Avenue spot.
As Lisa Sedlar welcomed guests into what'll become the Green Zebra healthy convenient food outlet's third location, she peered out onto the corner of Southeast Division Street and 50th Avenue and beamed.
"This is going to be a great location," she said as droves of pedestrians strolled by.
As will, in all likelihood, Sedlar's other locations, in the Kenton and Woodstock locales. Sedlar, the former New Seasons CEO, plans to make a go of it with a new concept — healthy and locally sourced food that's easy to buy because it's sold through smaller storefronts — that has organic food fans salivating.
We asked Sedlar for a bit more info about her venture, which is now set to open its first set of doors in September.
Sustainable Business Oregon: How's the planning and construction coming along for the Kenton and Woodstock locations?
Lisa Sedlar: Our first store is on Lombard and Peninsular in the Kenton neighborhood and the planning and construction are moving along at a rapid clip. We hope to be open by mid-September.
We are just starting the planning for our other two locations, in Woodstock and Richmond and while it's still too early to say exactly when they will open, our current thinking is sometime in the next 18 months.
SBO: What sort of challenges are you facing in setting up a store like this?
Sedlar: We are having a blast opening our first store. We are facing the same challenges that most every start up faces: There aren't enough hours in the day to get everything done. Luckily, our Green Zebra Grocery team has lots of experience — we have all been working in the grocery and retail business for 20-plus years — so while we haven't had a lot of challenges that we weren't prepared for, we are all buckled up and ready to take on whatever challenges come our way.
Comments
If you are commenting using a Facebook account, your profile information may be displayed with your comment depending on your privacy settings. By leaving the 'Post to Facebook' box selected, your comment will be published to your Facebook profile in addition to the space below.