Gallery: OMSI, with Energy Trust's help, gets the chillers
By Andy Giegerich
Digital Managing Editor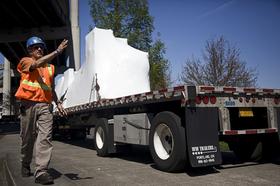 Workers had a big job ahead of them when OMSI, in updating its energy systems, added three new chillers. Click through for a gallery of the painstakingly precise system workers used to install one of the units.
Oregon Museum of Science and Industry visitors could enjoy more comfortable visits after the facility added three chillers to its 20-year-old HVAC system.
The venue added the chillers during a complicated and well-mapped installation.
---
Chill out: A look behind the scenes at OMSI's new cooling system
---
OMSI used some $345,000 in cash incentives for the chillers from Energy Trust of Oregon, which had given OMSI an energy management system audit. The chillers are expected to save 1.2 million kilowatt hours each year, as well as $90,000 in energy costs annually.
One of the chillers is dedicated to managing the climate of the museum's OMNIMAX Theater while the other two operate within the exhibit spaces.
OMSI has also upgraded its lighting systems. Its Planetarium lobby now features energy-efficient 2-watt light-emitting diode bulbs equipped with automatic controls that turn off and on based on the museum's hours. OMSI's Earth Science Hall also has new 21-watt LEDs, which replaced 170 older 120-watt bulbs.
Click on the gallery above for a closer look at OMSI's intricate chiller installation techniques.
Comments
If you are commenting using a Facebook account, your profile information may be displayed with your comment depending on your privacy settings. By leaving the 'Post to Facebook' box selected, your comment will be published to your Facebook profile in addition to the space below.