LEED architects flooding Portland's offices
By Andy Giegerich
Digital Managing Editor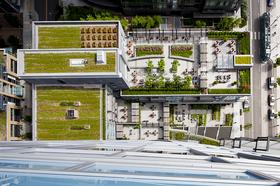 Ankrom Moisan's Mirabella project typifies the firm's LEED-related work.
Looking for a LEED-accredited architect? It's easier than ever to find one in Oregon.
More architecture firm employees have received the U.S. Green Building Council's certification for meeting Leadership in Energy & Environmental Design standards than ever, according to research unveiled this week by the Portland Business Journal. The paper's top 25 LEED architecture firms employ 449 LEED-accredited staffers, up 25 percent in the past year and 29 percent since 2011.
The PBJ is SBO's parent publication. The list of LEED-accredited architects appears both here, in picture form, as well as in Friday's print edition with other architecture-related lists.
THE LEED designation denotes that architects have the skills to design "green buildings," as defined by a Green Building Council point system. The system acknowledges such touches as the reuse of building materials, energy efficiency and water conservation measures.
It's logical that Portland, which has long tried to cultivate various sustainable businesses in such fields as cleantech and renewable energy, would host a growing wave of green-minded architects.
"There's a considerable interest in sustainable practices, and that's led to LEED certification as being a part of the normal skill set architects here need these days," said Rudy Barton, a Portland State University professor of architecture and design. "We have a considerable talent pool for it."
Portland's Ankrom Moisan Architects, which tops the Business Journal's LEED list, counts 48 LEED-certified employees, up from 30 last year.
"In the past few years, newer staff members have expressed a strong interest in reaching LEED accreditation, and it's very exciting," said Scott Thayer, a principal with the firm. "The industry in general sees sustainability as a key issue. The financial and the broader environmental advantages are clear. We pay for our employees testing costs and have conducted several training sessions. AMA also has a dedicated internal sustainable design task force that supports our staff and inspires others to achieve accreditation."
Comments
If you are commenting using a Facebook account, your profile information may be displayed with your comment depending on your privacy settings. By leaving the 'Post to Facebook' box selected, your comment will be published to your Facebook profile in addition to the space below.