Meet several Green Sports Alliance teams, leagues and a very noted college (gallery)
By Andy Giegerich
Digital Managing Editor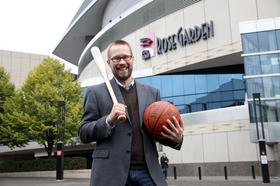 The Green Sports Alliance and Executive Director Martin Tull have welcomed more than 40 new sports industry members over the past year. Many of them are east of the Mississippi River, which reflects the group's growing reach. Click through for a look at what some of the new Alliance members are doing to better the environment.
The news this week that the Green Sports Alliance has added more very high-profile members came with the note that many of those new teams, leagues, arena operators and other brands are based far from the group's Portland home.
---
Greener sports: Meet the newest members of the Portland-based coalition
---
We checked in with the group, led by Martin Tull, to see what sort of sports-field members they're enlisting, as well as the level to which they're committed to going green.
We were surprised, in a good way, by what we heard. Whereas pro sports teams often hold business operations information close to their vests, each team or other new Alliance entity we'd asked about was very willing to tout the levels to which it wants to protect the environment in a way that also fortifies their bottom line.
We were struck by such groups as the United States Tennis Association, which became an Alliance member earlier this year. The USTA, it turns out, is a huge fan of composting food waste at the U.S. Open. The group also encouraged Hess, the event's energy provider, to supply Green-e certified wind renewable energy certificates to match the electricity generated during the 2012 U.S. Open.
Click the photo above to get a gander at which teams and leagues are among the many that, no matter what their team colors, are increasingly going green.
Comments
If you are commenting using a Facebook account, your profile information may be displayed with your comment depending on your privacy settings. By leaving the 'Post to Facebook' box selected, your comment will be published to your Facebook profile in addition to the space below.