Oregon's farmers markets go on a publicity blitz (photos)
By Andy Giegerich
Digital Managing Editor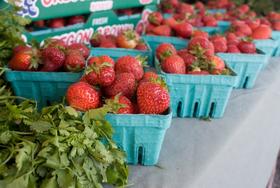 Click through for a look at several farmers markets that are open for the summer up and down the Willamette Valley.
Farmers markets up and down the Willamette Valley are about to get a healthy blast of branding.
The Portland Farmers Market is spearheading a $110,000 advertising campaign aimed at boosting consumer awareness and customer counts at farmers markets between Portland and Cottage Grove. Nearly $69,000 of the campaign's costs comes from an Oregon Department of Agriculture grant, through the United States ag department's Special Crop Block Grant program.
---
Farm fresh: Take a look at some of the Willamette Valley markets popping up
---
The markets themselves, along with the BOGS footwear company — which kicked in $10,000 and supplied boots to farmers appearing in the ads — are supplying the rest. The media firm Run Spot Run produced the spots at a discounted rate.
Some 86 percent of Oregon's farmers grow specialty crops, defined as fruits and vegetables, tree nuts, dried fruits, horticulture and nursery crops.
Farmers markets have popped up all over the Portland area (see accompanying pictures by clicking on the image above). Yet Trudy Toliver, executive director for the Portland Farmers Market, estimated that only around 5 percent of the state's residents patronize the fresh food options.
"The real news is we have such a wealth of farmers markets here," said Toliver. "Having more farmers markets gives the farmers places to sell their food but not a lot of the population is taking advantage of our local food."
The ads will direct shoppers to find their nearest farmers market at the campaign website InLocalWeLove.com. The spots will feature farmers Jamie Kitzrow of Spring Hill Organic Farm in Albany, Sarah Hucka of Circle h Farm in Dexter, Tom and Patreece DeNoble of DeNoble Farms in Tillamook, Charlie, Vicki and Chris Hertel of Sun Gold Farm in Forest Grove, and David Landis and Anita Azarenko of La Mancha Ranch & Orchard in Sweet Home.
Comments
If you are commenting using a Facebook account, your profile information may be displayed with your comment depending on your privacy settings. By leaving the 'Post to Facebook' box selected, your comment will be published to your Facebook profile in addition to the space below.