'Passive house' aggressively saves energy (photos)
By Andy Giegerich
Digital Managing Editor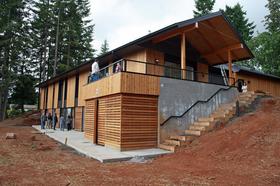 Cathy Cheney | Portland Business Journal
The Pumpkin Ridge Passive House features a super-insulated airtight building envelop that manages the transfer of heat, air and moisture. Click through for a look at several of the Passive House's energy-saving and no-impact heating and cooling features.
A new North Plains house is providing a laboratory for builders and architects who have created what they say is top-notch, even revolutionary, comfort at a minimal cost.
---
Passive House: Take a walk through an extremely efficient North Plains abode
---
The Pumpkin Ridge Passive House is so tightly insulated, utilizes windows and other features along its skin and collects energy from such a wide array of sources that it doesn't even have a furnace. It requires 90 percent less energy to heat than conventional homes despite being nuzzled into a shaded and forested section of the Oregon Coast Range's foothills.
One other thing: The Passive House has no solar panels. It repurposes energy from appliances and laundry facilities through its elongated floor plan.
Hammer & Hand and Scott Edwards Architecture LLP built the 3,000-square-foot house for about $225 a square foot. It is no more expensive to upkeep than a conventional custom home when monthly energy costs are taken into consideration alongside the mortgage, taxes and insurance.
The Pumpkin Ridge Passive House is one of just a handful of super-efficient building efforts in the Pacific Northwest. Click on the image above for a glance at the North Plains project.
Click the image above to take a tour of the Passive House.
Comments
If you are commenting using a Facebook account, your profile information may be displayed with your comment depending on your privacy settings. By leaving the 'Post to Facebook' box selected, your comment will be published to your Facebook profile in addition to the space below.