SolarWorld amps Bonnaroo's power grid
By Andy Giegerich
Digital Managing Editor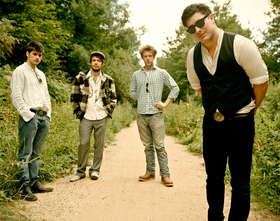 Mumford & Sons' stage power will be partially offset through SolarWorld's installations.
SolarWorld's panels could attract more than just southern exposure at the massive Bonnaroo Music and Arts Festival this week.
Company officials have supplied a 50-kilowatt array of SolarWorld panels which will offset electricity used during the performances. It's the first permanent solar system installed at a major American music festival.
The system is expected to produce the equivalent of 20 percent of the power consumed at Bonnaroo's Manchester, Tenn. site each year.
As such, SolarWorld could attract attention from music fans and energy advocates alike. Bonnaroo not only attracts 80,000 attendees each year, the four-day festival tends to live on through Webcasts and various online videos for years. The event also generates heavy social media traffic.
This year's event features the iconic Paul McCartney, Mumford & Sons and Macklemore & Ryan Lewis.
The 196-solar panel structure is mounted on the roof of a backstage metal structure. It's expected to generate more than 61,000 kilowatts of energy each year.
The system is detailed in an exhibit devoted to sustainability called "Planet Roo." It was partially funded with opt-in donations, on ticket sales, reserved for onsite sustainability projects.
"Bonnaroo is setting an example for both high musical standards and low environmental impact," said Kevin Kilkelly, president of SolarWorld Americas, in a release. "In opening their own wallets to ensure a cleaner, greener concert experience, fans sent out a heartening message about the American public's embrace of solar power."
Comments
If you are commenting using a Facebook account, your profile information may be displayed with your comment depending on your privacy settings. By leaving the 'Post to Facebook' box selected, your comment will be published to your Facebook profile in addition to the space below.