10 things I've learned during 2013's first half
By Andy Giegerich
Digital Managing Editor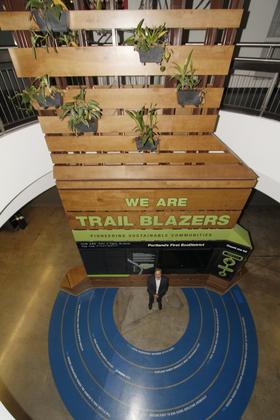 The Blazers' Justin Zeulner — he's standing in front of the team's living wall, at the Rose Garden arena — did solid work during 2013's first half. Click through for other examples of what went right during the last six months as well as what the author learned about his new beat.
Talk about a blur of a last six months. While learning the ropes here at SBO's headquarters, I've barely had time to enjoy any of my favorite seasonal pastimes — watching baseball, attending awesome outdoor festivals, reading poetry in the shade of my favorite redwood, you get the idea.
---
Learning on the job: 10 things of note so far in 2013
---
I have had time, though, to become more acclimated with a beat that, increasingly, fascinates me. I love that reporting on (and editing) "sustainability" encompasses everything from scary-fast electric vehicles to grub, fine, tasty grub.
As summer kicks in, it seems like a good time to take stock of what I've learned during 2013's first half (specifically, the four months in which I've held this job). It's not only a good time to check in on sustainability doings so far this year, it's also a good reminder that, as journalists, the best part of our jobs is the constant education. As such, I'm looking forward to many more years of green-business schooling.
Click through on the image above to see what I've learned as 2013 makes its turnaround. And, oh, I was only kidding about the poetry thing. I only wish I were that refined.
Comments
If you are commenting using a Facebook account, your profile information may be displayed with your comment depending on your privacy settings. By leaving the 'Post to Facebook' box selected, your comment will be published to your Facebook profile in addition to the space below.