Oregon's top commercial remodelers' greenest projects (photos)
By Andy Giegerich
Digital Managing Editor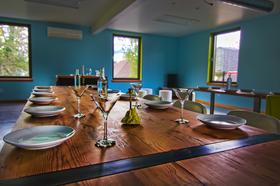 Hammer & Hand's work on the Xico restaurant space, in the Glasswood "Passive House" retrofit, exemplifies top-notch environmental work done by Oregon's top commercial remodelers. Click through for more examples of the green jobs performed by some of the companies featured in Friday's Portland Business Journal Commercial Remodelers list.
With the Portland Business Journal's Commercial Remodelers list running this Friday, we, at the SBO shop, figured it was a good time to check with some of the listees to talk about their greenest works.
---
Commercial remodelers: A look at some of the more impressive green building retrofits in Oregon
---
We came away very impressed. Hammer & Hand showed us one of its innovative Passive Houses. Fortis Construction reaffirmed that the Blanchet House remains one of the more compelling projects, in both construction technique and ultimate purpose, in recent years. And we were reminded that such efforts as the White Stag Block were, indeed, sustainable retrofits in nearly every sense of the term.
Click through the gallery above for a look at what some of the companies appearing on PBJ's list are doing to make the remodeling sector a greener place.
Comments
If you are commenting using a Facebook account, your profile information may be displayed with your comment depending on your privacy settings. By leaving the 'Post to Facebook' box selected, your comment will be published to your Facebook profile in addition to the space below.