After 40-plus years, a new, green Portland-area hospital (photos)
By Andy Giegerich
Digital Managing Editor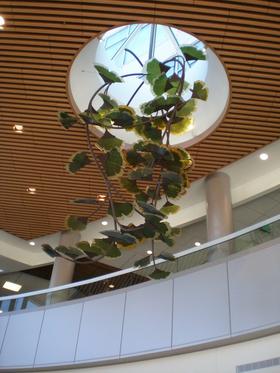 The ginko leaf sculpture that hangs down in the Kaiser Westside hospital's main lobby denotes healing, but it could also represent the facility's commitment to environmental practices during construction and, ostensibly, its subsequent operation. Click through for a glimpse at some of the LEED Gold facility's environmental aspects, as well as a few other Westside touches.
The way Andy McCulloch figures it, Kaiser really had no choice but to open a hospital in Portland's quickly growing west suburbs.
"This area's growing like mad, and there's no way for them to get to our facilities quickly" because of factors like traffic and other logistics, said McCulloch, the company's regional president.
---
Early look: Take a peek inside Portland's first LEED-certified hospital
---
"However, we knew that because we're in Oregon, we needed to make sure the hospital was built with the environment in mind."
That means the facility, Oregon's first new full-service community hospital since the early 1970s, needed to source as many materials locally as possible. It also needed to offer visitors food choices from area suppliers.
That's just the beginning. Kaiser also uses 6.5 million fewer gallons over the course of a year than a traditional health facility. That's enough to fill 10 Olympic-sized pools. It's also one of McCulloch's favorite statistics about the facility.
Other numbers of note include the facility's:
27 emergency department treatment bays
60 specialty care providers
90 specialty care exam rooms
126 beds, all in single rooms
947 parking spaces
1,000 family-wage hospital jobs created
2,000 construction jobs created over the life of the project
The 421,000-square-foot hospital cost $344 million.
Click the image above for a look at some of the Westside Medical Center's sustainability-oriented features, as well as a few of its health-promoting aesthetic touches.
Comments
If you are commenting using a Facebook account, your profile information may be displayed with your comment depending on your privacy settings. By leaving the 'Post to Facebook' box selected, your comment will be published to your Facebook profile in addition to the space below.