Blazers look for commanding sustainability lead
By Andy Giegerich
Digital Managing Editor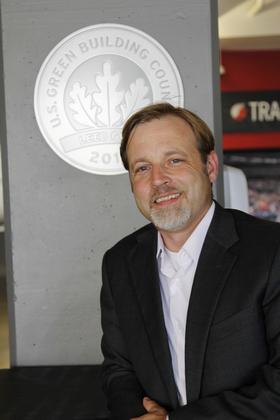 Justin Zeulner, the Portland Trail Blazers director of sustainability, said the team hopes it can achieve LEED Platinum status from the U.S. Green Building Council. The team earned the Gold designation in 2010. The Blazers plan to amp the team's sustainability profile in hopes of leading the sports industry's overall move to greener operations. Click through for a look at some of the efforts that helped the Rose Garden achieve LEED Gold status, from the U.S. Green Building Council, in 2010.
It's no secret that the Portland Trail Blazers are titans in the green sports world.
The team joined the Business for Innovative Climate and Energy Policy group two years ago. The Blazers are also a backing member of the Green Sports Alliance.
---
Blazing: A look behind the scenes at the Trail Blazers' continued sustainability efforts
---
And now, with Sustainability Director Justin Zeulner and other front-office execs speaking out in favor of President Obama's proposed climate change reforms, the team is ready to take the next step. Blazers officials said this week they hope, in a pronounced way, to lead other franchises toward sustainable paths. It makes sense because of the team's Portland base — the city is home to several cleantech and renewable energy companies, along with green-leaning Nike Inc. and a large Intel Corp. presence — and because team officials, from Paul Allen on down, embrace sustainability philosophies.
A longer article on the team's efforts will appear in this week's Portland Business Journal. For now, click on the image above to explore parts of the arena, including the Blazers locker room and rarely visited sections of the Rose Garden's underbelly, in which sustainability is becoming nearly as important of a measurement tool to the team as wins and losses.
Comments
If you are commenting using a Facebook account, your profile information may be displayed with your comment depending on your privacy settings. By leaving the 'Post to Facebook' box selected, your comment will be published to your Facebook profile in addition to the space below.