Blue Sky tour: From wind to sun (photos)
By Andy Giegerich
Digital Managing Editor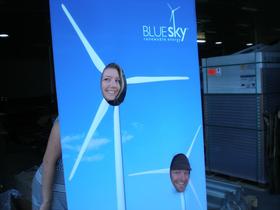 Amy Baird from Renewable Northwest Project and Evan du Pont from 3Degrees were two of the 60-plus attendees who embarked on Pacific Power's Blue Sky tour on Saturday. The tour took visitors to a wind turbine farm in Wasco and to Turtle Island Foods' under-construction facility in Hood River. Click through for more photos of the tour.
Pacific Power's Blue Sky Renewable program team members clearly subscribe to the show, not tell, school of customer outreach.
That's why more than 60 Blue Sky customers signed on for a Saturday outing to Hood River and Wasco to visit a set of wind turbines at the PaTu Wind Facility and the under-construction Turtle Islands Foods facility. Turtle Islands, the makers of the venerable Tofurky line of meat substitutes, wants to construct what it believes will be the nation's second LEED platinum facility.
Both stops provided plenty of informational fodder for curious Pacific Power customers. PaTu co-owner Ormand Hilderbrand, who farms on both sides of the Columbia River in the Gorge area, was on hand to answer questions about the machinations of locating and operating turbines. An REC Solar representative patiently explained how solar panels will power the new Turtle Islands structure. And guides from 3Degrees and Pacific Power ensured that attendees left Hood River newly equipped to discuss renewable energy options.
Pacific Power has steadily added cleaner renewable forms to its energy resource mix since 2004. Wind energy comprises nearly 8 percent of the company's mix, up from 0.34 percent in 2004. And while coal still makes up about 60 percent of the mix, the figure is down from 68 percent in 2004.
Click on the photo above for a look at some of the stops made during the 2013 Blue Sky Renewable Project Tour.
Comments
If you are commenting using a Facebook account, your profile information may be displayed with your comment depending on your privacy settings. By leaving the 'Post to Facebook' box selected, your comment will be published to your Facebook profile in addition to the space below.