Fre+Will Dock: The inside story
By Andy Giegerich
Digital Managing Editor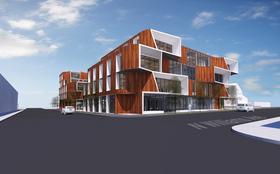 Image courtesy of Holst Architecture
Developers of the Fre+Will project worked with neighbors to craft their vision for a sustainable office and retail project in North Portland.
The proposed Fre+Will Dock in North Portland aims to be something much more than just an office complex.
The mixed-use complex, which consists of three structures that'll sit at North Williams Avenue and Fremont Street, could provide the base point for an "ecodistrict," or sets of buildings and service providers defined by their owners' commitments to sustainability — that might emerge in the burgeoning neighborhood.
Developers of the Fre+Will Dock have already struck a partnership with New Seasons Market to use the store's recovered heat within the office and retail buildings.
Nels Gabbert, Ben Kaiser and Eric Lemelson are serving as the project's developers. We wrote a little bit about the project earlier this week. Here's a bit more about Fre+Will from the trio that hopes to erect a new monument to green building.
On the North Williams Avenue neighborhood:
Nels Gabbert: This is the next real important wave of development. We've come to it with an intentional set of ideas on how to build it out. We think it'll transform, again, the entire neighborhood. There haven't been buidings of that size in the neighborhood.
Eric Lemelson: Ben took the neighborhood by storm a long time ago and has the reputation for being community-oriented.
Gabbert: With the offices, it's going to be a 20-minute neighborhood where people can bike to work.
Ben Kaiser: Actually we want it to be the first 11-minute neighborhood.
Gabbert: We're bringing a sensibility about green construction and energy, and we reached out to the neighbors around sharing parking and (New Seasons) waste heat, and we're dedicating a large portion of our courtyard that'll be open to the public.
Comments
If you are commenting using a Facebook account, your profile information may be displayed with your comment depending on your privacy settings. By leaving the 'Post to Facebook' box selected, your comment will be published to your Facebook profile in addition to the space below.