Green Zebra's local heroes give up the goods on their goods (Photos)
By Andy Giegerich
Digital Managing Editor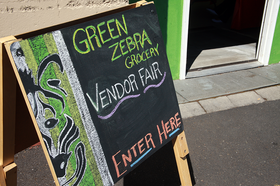 Cathy Cheney | Portland Business Journal
Nearly 300 Portland-area food manufacturers participated in a vendor fair for Green Zebra Grocery, which opens its first store Sept. 25 at 3011 N. Lombard St.
Lisa Sedlar told me in May, as SBO reported on the news that she'd open a store near the corner of Southeast 50th Avenue and Division Street, that she wanted her new Green Zebra grocery to do more than showcase local foods.
"Part of being a sustainable business means supporting other sustainable businesses," Sedlar said at the time. "We are excited to serve as an incubator for other local food businesses and to help them bring their products to market. We think there's no better, tastier food than what we grow here in the Willamette Valley. Just taste a Hood strawberry if you need proof.
"The more we support our local family farms, the more we ensure that this fertile landscape keeps producing food for generations to come."
That was one of the ideas behind last Thursday's Green Zebra food vendor event at which Sedlar and other Green Zebra staffers interviewed scores of vendors at the unopened Division location. Nearly three times as many food specialty producers showed up for the event than Sedlar had expected.
Click through for a sustainably targeted glimpse at a few of the local food manufacturers and sourcing outfits that could soon be appearing in a Green Zebra near you.
Comments
If you are commenting using a Facebook account, your profile information may be displayed with your comment depending on your privacy settings. By leaving the 'Post to Facebook' box selected, your comment will be published to your Facebook profile in addition to the space below.