NEEA: Savings since '97 would power 660k homes
By Lee van der Voo
Contributing Reporter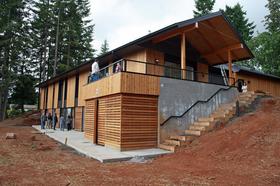 Cathy Cheney | Portland Business Journal
NEEA worked on the Pumpkin Ridge Passive House among other energy-related projects. The group's work has saved enough money to power 660,000 homes since 1997.
The Northwest Energy Efficiency Alliance, in its recently released annual report, says it has conserved enough to power 660,000 Northwest homes a year since spearheading its energy-saving initiatives in 1997.
The organization estimates the energy savings of 906 average megawatts of power has saved the region from having to build two coal-fired power plants or equivalent facilities.
NEEA is a nonprofit alliance of more than 100 Northwest utilities and energy efficiency organizations that focuses on energy efficiency. Its funders include the Bonneville Power Administration, several public utility districts, Energy Trust of Oregon, and numerous Northwest-based investor-owned utilities.
NEEA spends tens of millions annually funding energy-saving investments, last year plugging $29 million into projects ranging from piloting new technologies and building standards to leveraging its collective clout to influence regional markets.
In 2012, NEEA culled 83 average megawatts in energy savings from residential users, and 18 from commercial and industrial users.
The work includes such campaigns as efficiency training and certification for refrigeration engineers, testing efficiency controls for streetlights and piloting programs that forward green-building standards.
Among its successes, NEEA highlighted a cash-incentive program urging retailers to sell energy efficient televisions in its report. The program attracted retailers who accounted for 84 percent of all televisions sold in the Northwest last year.
Other highlights include bringing heat pump water heaters to market in the Northwest, teeing up two new initiatives targeting commercial lighting retrofits for 2013, and providing cost-effective regional resources to utilities and energy efficiency organizations by creating economies of scale.
The organization also notes other benefits to the region spurred by its work. They include lowering risks for emerging technologies, creating upstream relationships with national retailers and manufacturers, lowering utility program costs and offering a regional voice for Northwest interests in the marketplace.
Comments
If you are commenting using a Facebook account, your profile information may be displayed with your comment depending on your privacy settings. By leaving the 'Post to Facebook' box selected, your comment will be published to your Facebook profile in addition to the space below.