Oregon beer: Ninkasi's environmental gambit (Photos)
By Andy Giegerich
Digital Managing Editor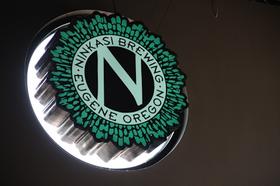 Click through for a quick tour of Ninkasi Brewing Co.'s various sustainable programs and practices.
In a state with several high-flying craft breweries, Eugene's Ninkasi Brewing Co. is absolutely soaring.
The seven-year-old company is now the nation's 31st largest brewer, moving more than 68,000 barrels of beer nationwide last year. It also ranks third in terms of Oregon-sold beers by Oregon-based brewers.
---
Beer time: A look at Ninkasi's environmental prowess
---
Yet even with its solid business success, Ninkasi takes more pride in its sustainability programs. It is designing its new Eugene facility with the environment in mind. It will use less water to make its ales and slash its lighting and overall energy use. Plus, the company will continue to work almost exclusively with like-minded suppliers.
"With craft brewing, the state has created a sustainable manufacturing industry that creates good jobs and good wages," said Ninkasi co-founder Nikos Ridge. "The industry itself does a great job of being aware of its environmental impact, and I see a lot of great things happening in craft beer around sustainability."
Click on the image above for a quick look at some of Ninkasi's sustainability efforts.
Comments
If you are commenting using a Facebook account, your profile information may be displayed with your comment depending on your privacy settings. By leaving the 'Post to Facebook' box selected, your comment will be published to your Facebook profile in addition to the space below.