Vancouver Port greenlights oil facility
By Andy Giegerich
Digital Managing Editor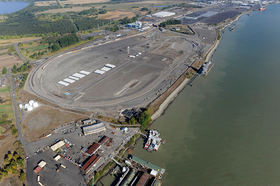 The Port of Vancouver USA approved a request to build a facility at the port to handle crude oil.
The commission that leads the Port of Vancouver has OK'd a lease for an oil terminal that sparked strong opposition from environmental groups.
The Port of Vancouver's commission backed leasing space for the Tesoro Corp.'s terminal, which would help users ship oil by train. The terminal is backed by Tesoro Corp. and Savage Companies.
The companies said the effort would create as many as 330 jobs, including 80 permanent positions, in the Vancouver area. But opponents such as Columbia Riverkeeper pointed to such risks as the July 6 oil train derailment in Quebec that killed 50 people.
Developer Barry Cain also told commissioners Monday fears of an oil train explosion could threaten his ability to finance and insure a mixed-use renewal project he wants to build along Vancouver's waterfront.
The facility could handle nearly 400,000 barrels of oil per day from trains to ships at the Columbia Riverfront port. It would cost between $75 million and $100 million. The facility is expected to open in 2014.
Savage will oversee and manage the design, construction and operation of the facility, which will exist on three parcels. Tesoro and Savage also partnered on a rail unloading facility at Tesoro's Anacortes, Wash., refinery.
Among the opponents: Climate activist Bill McKibben, the 350.org group founder who appeared in Clark County to blast the project last week. McKibben toured the proposed site in a boat.
Comments
If you are commenting using a Facebook account, your profile information may be displayed with your comment depending on your privacy settings. By leaving the 'Post to Facebook' box selected, your comment will be published to your Facebook profile in addition to the space below.