A look at the future of lighting (Photos)
By Mason Walker
New Media Manager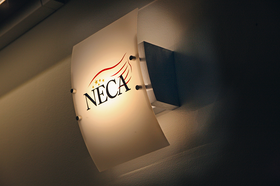 Cathy Cheney | Portland Business Journal
The entire interior of the NECA building has been updated with LED lamps and LED fixtures. Click through the gallery for a few more looks at the upgrades.
It appears the age of the LED light has arrived. At least according to the Portland outpost of the National Electrical Contractors Association (NECA).
The trade group has undergone a complete retrofit of its training space and headquarters, converting all lights to light-emitting diode (LED) fixtures. LEDs use considerably less energy than conventional incandescent and compact fluorescent lights.
---
Seeing the light: A look at NECA's Portland LED makeover
---
But despite the long-term cost and energy savings, the technology has been slow to roll out, especially in commercial buildings.
Historically, a high initial cost, along with relatively poor light quality, has kept LEDs out of the mainstream lighting arsenal. The landscape, however, is changing.
Much like with solar panels, the cost of LEDs has steeply fallen as demand has risen and competition among suppliers has ratcheted up. Advanced coatings and surface applications — some being developed in Oregon — have also led to more desirable light tones and increased energy efficiency.
Click through the gallery above for a closer look at NECA's LED upgrades.
Comments
If you are commenting using a Facebook account, your profile information may be displayed with your comment depending on your privacy settings. By leaving the 'Post to Facebook' box selected, your comment will be published to your Facebook profile in addition to the space below.