Alta preps bike programs in Bay Area and Seattle, faces Portland questions
By Andy Giegerich
Digital Managing Editor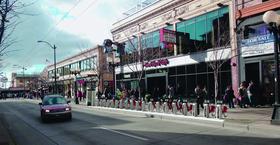 An artist's rendering hints at what bike-sharing racks might look like in Seattle when Alta's Bike Share program launches next year. Seattle and Portland are in the running to start their program first. However, Portland taxpayers may need to pony up for a local program, according to a published report.
It was a mixed bag of news for Portland's Alta Bike Share this week.
Bad news first: Willamette Week reported that the city looks to be pursuing a plan to use public money to finance $4.6 million of the program's start-up costs in Alta's hometown. The paper pointed out that officials had accepted a 2011 $2 million federal grant to help launch the bike-share program with the stipulation that Portland use no city money to back the plan.
The paper also said public documents it obtained indicate that Alta's coverage area would, at least initially, be limited to the city's more well-off neighborhoods. Alta received the same criticism for its New York program.
On the other hand, Alta prepared to launch its Bay Area program in San Francisco on Aug. 29. The website SF.Streetsblog reported that the system will at first offer 700 bikes, with the number expected to grow to 1,000 in 2014's first quarter.
Plus, the Puget Sound Business Journal revealed Tuesday that the Seattle City Council Transportation Committee recommended "conceptual approval" of Alta's plan to start a bicycle-sharing program next spring.
Seattle and Portland are believed to be in competition to launch a bike-share program first. Mia Birk, Alta's vice president, acknowledged earlier this year that the nonprofit continues to shape plans for both cities but wouldn't say which city would begin the program first.
Holly Houser, executive director of nonprofit Puget Sound Bike Share, said this week Seattle's program is set to begin in May.
Seattle's system would initially operate in downtown, South Lake Union, Capitol Hill and the University District. It could soon expand to outlying "urban centers" and "urban villages" as well as large institutions, such as hospitals and schools.
Comments
If you are commenting using a Facebook account, your profile information may be displayed with your comment depending on your privacy settings. By leaving the 'Post to Facebook' box selected, your comment will be published to your Facebook profile in addition to the space below.