BetterBricks Awards: Leaders embrace increased demand, welcome youth infusion
By Andy Giegerich
Digital Managing Editor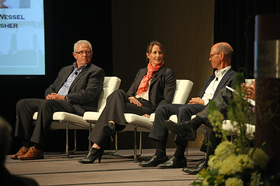 Cathy Cheney | Portland Business Journal
(From left: Kirk Davis of Glumac, Jenny Bloomfield of J.E.Dunn and Mark Edlen of Gerding Edlen offered cogent analyses of the green building industry during Wednesday's BetterBricks Awards breakfast.
Three major players in the sustainable built environment world told green business leaders Wednesday that demand for environmentally sound design and construction continues to rise.
"Requests for LEED projects went up, up, up even as the market was flat," said Jenny Bloomfield, director of Leadership in Energy and Environmental Design for the contractor JE Dunn. Bloomfield's comment referenced the 2008-2011 commercial real estate slowdown.
---
BetterBricks: Scenes from the 2013 awards breakfast
---
Bloomfield and two other renowned green building experts — Glumac's Kirk Davis and Gerding Edlen's Mark Edlen — appeared on a panel during the 2013 BetterBricks Awards Breakfast, held by the Portland Business Journal at downtown Portland's Hilton Hotel. About 250 business leaders attended the event, which handed out awards to 16 green building industry titans.
Davis and Edlen strongly backed Bloomfield's take about the demand for sustainable services.
"The economy had little to no effect on the sustainable aspects of design," said Davis, who's Glumac's managing principal. "Clients expect no less than LEED Silver designation."
Edlen said even institutional investors expect more green practices when they back real estate projects.
"We're seeing more demand on the consumer side, and institutional investors want more LEED details because they both increase value, in the long-term, and because of user demand," he said.
The panel also weighed in on whether Portland's businesses are getting the most from their sustainability rep. In other words, the city needs to capitalize on the green design skillsets companies have built since the late 1990s.
Comments
If you are commenting using a Facebook account, your profile information may be displayed with your comment depending on your privacy settings. By leaving the 'Post to Facebook' box selected, your comment will be published to your Facebook profile in addition to the space below.