BetterBricks Awards: Built environment stars get their due (Photos)
By Andy Giegerich
Digital Managing Editor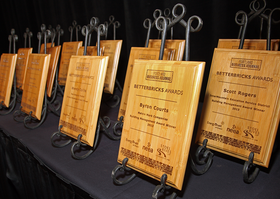 Cathy Cheney | Portland Business Journal
Sixteen green building champions walked out of Wednesday's BetterBricks Awards with plaques honoring their achievements. Click through for scenes, including the complete roster of winners, from today's event.
Hordes of sustainable building professionals effectively painted downtown Portland's Hilton Hotel ballroom green on Wednesday morning.
---
BetterBricks: Scenes from the 2013 awards breakfast
---
Around 250 industry leaders feted their colleagues during the 2013 BetterBricks Awards Breakfast. In all, 16 builders, designers, managers, advocates and emerging leaders were honored by the Portland Business Journal at the event. The award winners will be featured in Friday's PBJ in a special section on sustainable development.
The Northwest Energy Efficiency Alliance was the event's presenting sponsor while Energy Trust of Oregon and Stoel Rives LLP were sustaining sponsors.
Click on the picture above for a glimpse of the award winners as well as other scenes from this morning's BetterBricks event.
Comments
If you are commenting using a Facebook account, your profile information may be displayed with your comment depending on your privacy settings. By leaving the 'Post to Facebook' box selected, your comment will be published to your Facebook profile in addition to the space below.