Biomass stove nonprofit heats up African market (Photos)
By Andy Giegerich
Digital Managing Editor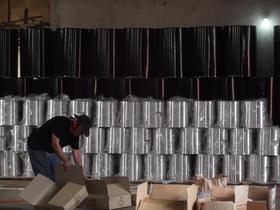 InStove founder Fred Colgan unloads boxes in front of a wall of pots and barrels. This factory ordered enough "stove kits,"which consist of parts purchased in bulk primarily from Oregon vendors, to produce 430 stoves in the first production run. The manufacturer InStove sells all products at or below cost as part of its nonprofit mission. Click through for more pictures from InStove's African development efforts.
A Cottage Grove nonprofit commercial biomass stove manufacturer has established firm production and distribution roots in Nigeria.
Institutional Stove Solutions, or InStove, opened its "Stove-Factory-in-a Box" in Afikpo, Nigeria last month. The nonprofit is working in conjunction with its Nigerian production partner the International Center for Environment and Energy Development.
---
Stove top: A look behind the scenes of InStove's African production program
---
The first run of 430 60-liter Stoves began rolling off InStove's first African production line in early July. Each stove in that production run was pre-sold to school meal programs across Nigeria.
The group says it's the first organization of its kind to successfully establish a major production facility for manufacturing advanced biomass cookstoves in sub-Saharan Africa.
InStove is negotiations to bring similar factories to Uganda, Kenya, and Senegal. It is also taking preliminary steps to establish manufacturing in and bring products and services to Haiti, Zambia, Ethiopia and the Democratic Republic of the Congo.
InStove's program model consists of conducting a pilot project to gauge a country's interest in stoves, conducting a market and demand analysis and establishing an in-country factory to lower production and shipping costs.
The Nigerian efforts mark the first test of InStove's model.
"The sustainability issue is near and dear to my heart," said InStove's co-founder Fred Colgan, who launched the nonprofit after retiring from the building trade eight years ago. "Regardless of what your passion is, whether it's women's and children's rights or fighting poverty or clean water or environmental degradation, we can make major steps in undoing some of the damage we've done."
Comments
If you are commenting using a Facebook account, your profile information may be displayed with your comment depending on your privacy settings. By leaving the 'Post to Facebook' box selected, your comment will be published to your Facebook profile in addition to the space below.