Retooled EV company execs: Hundreds of orders could lead to Portland-area plant
By Andy Giegerich
Digital Managing Editor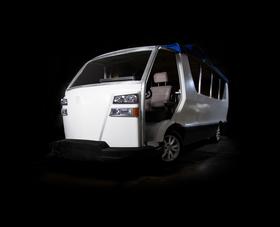 Copyright 2013, Dan Wardle
The Comet, by Vancouver start-up Pangea Motors, aims to transport 16 people around busy urban streets. The company already has orders for the electric vehicle from Asian customers.
A pair of electric vehicle industry vets are, with an ambitious mass transit service that's being rolled out in Manila, giving the fledgling field another go.
Ken Montler — who'd run the Porteon Electric Vehicles company that had marketed EVs for resorts and other light uses — and Michael Hippert are the brains behind, respectively, the Global Electric Transportation LTD and Pangea Motors LLC companies. The businesses' new endeavor is marketing 16-passenger vehicles intended to serve as alternatives to Manila's gas-guzzling and carbon-emitting "jeepneys."
Montler and Hippert want to establish a manufacturing facility in the Portland area. The duo are negotiating with officials in Clackamas County and the city of Vancouver in hopes of procuring a production space. Pangea and GET are currently operating out of a near-downtown Vancouver building.
If the Manila program takes hold and is rolled out to other cities — Montler believes Hong Kong and Sao Paolo, Brazil are possibilities, as are parts of Hawaii and New Jersey — Pangea could one day employ 300 workers locally, Montler projected.
"This could even provide 'last-mile' transportation in places like Portland that have light-rail lines," said Montler, who's the CEO of GET. Hippert is CEO of Pangea.
Pangea has orders for about 200 of the vehicles in Manila alone. Montler and Hippert expect the number to increase to 600 by the end of the year.
Unlike Porteon, the company is not seeking investors. Montler had sought $15 million to get Porteon off the ground.
While some $3 million eventually went into the company, Montler and Hippert changed course in January, launching Pangea and GET after a St. Lucia deal collapsed, leading to the end of Porteon.
Comments
If you are commenting using a Facebook account, your profile information may be displayed with your comment depending on your privacy settings. By leaving the 'Post to Facebook' box selected, your comment will be published to your Facebook profile in addition to the space below.