Give 'em a metal: A look at Bob's scrappy company (Photos)
By Andy Giegerich
Digital Managing Editor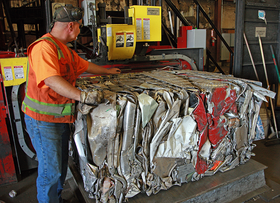 Cathy Cheney | Portland Business Journal
Bob's Metals' team, including baling specialist Darin Finck, is making the transition from one generation of owners to another. Click through to see how the company, which helps manufacturers recycle their goods, is making that move, as well as managing the recyclable metal waste that moves through the facility.
When photographer Cathy Cheney visited North Portland's Bob's Metals to shoot pictures for a story on business succession plans, she uncovered a neat intersection between financial services and sustainability.
---
Proving its metal: A look behind the scenes of a family-run recycling business
---
Bob's Metals, it turns out, is serious about both keeping the business in the family and doing it in what the company maintains is an environmentally responsible fashion. The company deals in the scrap metal recycling trade, giving it long-term legs as the operations move from CEO Bob Weinstein, who opened the business in 1983, to sons Michael and David Weinstein.
The company collects scrap metal from commercial customers, delineating it, processing it and rerouting it to the appropriate recycling channels.
Michael and David Weinstein take over a company that employs 30 workers. And as the story written by PBJ ace Matthew Kish reveals, millions of baby boomers will soon retire, putting the fate of their commercial enterprises in the hands of others.
The Weinsteins are part of a growing lot that believe firmly in the third leg of the sustainability stool: that one being that financial stability and viability is a critical part of being green.
As is, of course, repurposing materials when possible. Which is where Bob's excels. Click through on the picture above for more of Cathy's shots of Bob's Metals' collection and redistribution programs, from her recent visit.
Comments
If you are commenting using a Facebook account, your profile information may be displayed with your comment depending on your privacy settings. By leaving the 'Post to Facebook' box selected, your comment will be published to your Facebook profile in addition to the space below.