Jumping juniper: Sustainability bigwigs to help manage proliferating wood (Photos)
By Andy Giegerich
Digital Managing Editor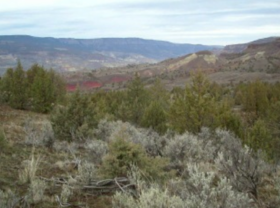 Western juniper, or Juniperus occidentalis, trees have become commonplace in Oregon's high desert. The Western Juniper Utilization Group hopes to harvest and manage the growth in a way that preserves (and possibly improves) the environment and creates more jobs in such places as Harney County. Click through for a closer look at the role juniper plays, and can play, in Oregon's high desert.
An effort by two Oregon sustainability titans to better harvest and utilize juniper from public lands has earned approval from the state's top rungs.
Gov. John Kitzhaber has designated the Western Juniper Utilization Group as an "Oregon Solutions" project, meaning it will collect $262,000 "to unlock the potential of rangeland restoration and juniper harvested from public and private lands." The strategy will bring more wood options to builders or those looking for biomass materials.
---
Wood you rather ... : A look at juniper growth in Eastern Oregon
---
Kitzhaber named Neil Kelly Co.'s President Tom Kelly and Martin Goebel, the former Sustainable Northwest chief, as the project's "co-conveners." They'll work with businesses, environmental groups, tribes and government agencies on juniper harvesting solutions.
"Expanded job opportunities related to utilization of juniper beyond the initial work created by the restoration projects themselves merits greater attention," Kitzhaber wrote in an Aug. 6 letter backing the idea.
Kitzhaber plans to sign a formal declaration backing the notion Friday in Burns. Harney County and other Eastern Oregon locales are homes to proliferations of juniper. Within the last 150 years, the population and acreage covered by western juniper has increased as much as ten-fold, according to Oregon State University researchers.
The Oregon Solutions Network provides economic assistance to various state regions based on specific community needs.
Along with Harney County, the Juniper group will work in Crook, Deschutes, Gilliam, Jefferson, Klamath, Lake, Malheur, Morrow, Sherman, Wasco and Wheeler counties.
Comments
If you are commenting using a Facebook account, your profile information may be displayed with your comment depending on your privacy settings. By leaving the 'Post to Facebook' box selected, your comment will be published to your Facebook profile in addition to the space below.