Meet the 2013 BetterBricks Awards honorees
By Andy Giegerich
Digital Managing Editor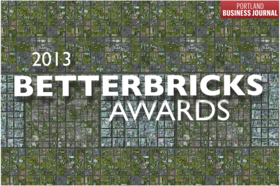 Mason Walker | Portland Business Journal
Click through the gallery to meet the 2013 BetterBricks Awards winners.
Though we made a few tweaks to the program this year, the BetterBricks Awards still serve to shine a light on some of the sustainable building and commercial development visionaries that are so abundant in the Northwest.
---
BetterBricks: Meet this year's 16 inspiring green building leaders
---
This is one of the sustainable building world's pre-eminent events (and one for which you can register here). The area's top building owners, managers, developers, designers and industry advocates will be feted along with three up-and-coming green building pros and one very devoted business operator.
The event is sponsored by the Northwest Energy Efficiency Alliance, which is the presenting sponsor, along with Energy Trust of Oregon and Stoel Rives LLP.
Click through on the image above for a closer look at our 16 awardees.
Comments
If you are commenting using a Facebook account, your profile information may be displayed with your comment depending on your privacy settings. By leaving the 'Post to Facebook' box selected, your comment will be published to your Facebook profile in addition to the space below.