PSU snares green growth opportunities in Vietnam (Photos)
By Andy Giegerich
Digital Managing Editor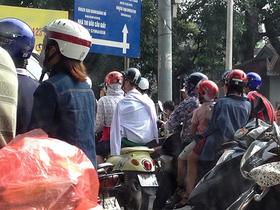 A growing Vietnamese economy also means increasing traffic and reduced air quality, which means opportunities for Oregon distributors of air quality monitoring technology and electric vehicles.Click through for more pictures that show how Portland State University and Business Oregon are working to find more sustainable business opportunities in Vietnam.
As Vietnam seeks to keep expanding its green economy, Portland State University's sustainable development team is finding new opportunities for Oregon exports.
Several representatives from the school and the state's economic development arm Business Oregon attended the Green Growth Investment Forum in Vietnam's Quang Nam Province. The representatives were the only U.S. delegates to attend the conference.
The idea is that green and sustainable business practices and products can help contribute to the growing export lanes between the two countries. Between 2002 and 2012 Oregon exports to Vietnam grew more than 20-fold. Vietnam sports the second highest average annual GDP growth rate of any Oregon major export market during that time.
"Vietnam is a growing market and they are really interested in green growth, how Oregon has supported sustainable development through policy and Oregon clean technologies like air monitoring, water monitoring, electric vehicles waste to energy and renewable energy systems," said Sunun Setboonsarng, global trade specialist with Business Oregon, in a release.
A sustainable development strategy developed in partnership with Portland State University and UN-Habitat, the United Nations agency for human settlements, in a rapidly urbanizing Quang Nam Province is seeking new technologies to meet increasing energy and water demands.
Under a memorandum of understanding signed this summer, PSU is working with Quang Nam Province and the city of Hoi An as the two sides use sustainability to encourage economic development through an "eco-city" strategy. This fall, officials from the province will come to Portland to learn about financing and investment tools for sustainable development and emergency management.
Comments
If you are commenting using a Facebook account, your profile information may be displayed with your comment depending on your privacy settings. By leaving the 'Post to Facebook' box selected, your comment will be published to your Facebook profile in addition to the space below.