Vestas ousts longtime CEO, appoints new boss
By Erik Siemers
Managing Editor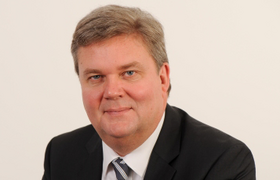 Vestas Wind Systems A/S on Wednesday said Anders Runevad, a former executive with Swedish Ericsson, will take over as CEO.
Danish wind-turbine manufacturer Vestas A/S on Wednesday ousted longtime CEO Ditlev Engel and replaced him with telecom executive Anders Runevad.
Engel had been with the company for 15 years, but the move isn't surprising considering the company's struggles over the past year. On Tuesday it posted a second quarter loss of $83 million on a 26 percent decline in sales. As the New York Times reports, the company's share price has fallen 85 percent since 2009 as the wind energy industry faced pressure from reduced government subsidies, weak economies, and lower-cost competitors in China.
In a news release, Chairman Bert Nordberg — who, upon his own appointment last year, said he had no intention of asking Engel to step down — said now was the appropriate time to make a change.
"The company is now entering a new phase, where we want to realize our growth potential, and I am confident that Mr. Runevad has the right experience to lead the company going forward," Nordeberg said in a news release.
Runevad joins the company Sept. 1 from telecom giant Swedish Ericsson, where he was president of the west and central Europe region. He joined Ericsson in 1995 and had held posts as president of divisions in Singapore and Brazil, among other executive posts.
"I am delighted to be joining Vestas and look forward to leading the company in its next phase of development," Runevad said in a news release. "I believe that my career has equipped me with the right tools to take on this task."
Runevad's appointment is just the latest major management shakeup at Vestas, both globally and at its Portland-based sales and services headquarters.
Comments
If you are commenting using a Facebook account, your profile information may be displayed with your comment depending on your privacy settings. By leaving the 'Post to Facebook' box selected, your comment will be published to your Facebook profile in addition to the space below.