A second act for a building entering its second century (Photos)
By Wendy Culverwell
Staff Reporter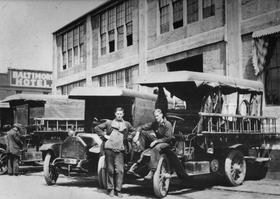 An undated photo fo Portland General Electric employees, taken at the Hawthorne Building in the Central Eastside Industrial District. Vancouver-based Killian Pacific is buying the building and transforming it into a modern office for an undisclosed Portland firm.
The oldest building in Portland General Electric's real estate portfolio is getting a modern makeover as it enters its second century.
Vancouver-based Killian Pacific has an agreement to buy the Hawthorne building, 1510 S.E. Water Ave., from PGE in a deal that includes a total environmental cleanup and a LEED Platinum makeover for an undisclosed tenant.
The deal, subject to Oregon Public Utility Commission approval, is expected to close by the end of the month. Terms were not immediately available.
The project has multiple moving parts, but generally falls in the category of "adaptive reuse."
_________________________________________________________________________________
Click through the images to the right for a look at the building's history as well as a rendering of the makeover
_________________________________________________________________________________
PGE, or rather, a predecessor, constructed the all-concrete, 60,000-square-foot building in 1911. Over the course of a century it was used as a railway depot and a parking garage, storage facility, maintenance yard, machine shop and office space. It is the last remaining property in what was once a 26-acre PGE complex in the Central Eastside's South-of-Hawthorne neighborhood. In its most recent incarnation, it housed PGE's "underground crews," the teams that service downtown's buried infrastructure.
The underground crew relocated to Northwest Portland earlier this year to ensure it wouldn't be cut off from critical systems in a natural disaster, according to PGE spokesman Steve Corson.
The three-story building is a regulated asset, which means PGE ratepayers have paid for it over the years through its relationship with the Oregon Public Utility Commission. As PGE contemplated disposing of it, it sought a solution that preserved the unique historic building while maximizing the return to ratepayers.
Comments
If you are commenting using a Facebook account, your profile information may be displayed with your comment depending on your privacy settings. By leaving the 'Post to Facebook' box selected, your comment will be published to your Facebook profile in addition to the space below.