Best of the BEST: Scenes from Oregon's premier cleantech event (Photos)
By Andy Giegerich
Digital Managing Editor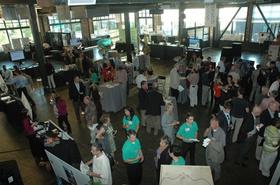 More than 100 cleantech enthusiasts hit a BEST Fest reception Wednesday night to get a gander at the six semifinalists in the Clean Challenge. The contest awarded $25,000 to a commercially viable pre-revenue company launched through Portland State University student research. Click through for more photos from last night's event.
Two companies that aim to produce solar industry items and restaurant-aimed aquaponic farming systems have split a $25,000 cleantech prize.
---
Best of the BEST: Scenes from the Cleantech Challenge
---
Diatomix, which looks to make naturally derived solar goods from materials called diatoms, and Mobius Microfarms, which touts its products as "self-sufficient aquaponic systems," won the top prize, as voted on by attendees at last night's BEST Fest reception. The BEST Fest is the region's preeminent cleantech conference.
The contest sought to identify the most viable and well-thought out cleantech business idea. Diatomix and Mobius nosed out four other teams for the prize:
Continuum, which has developed a corrosion-free lightweight seismic brace.
Endobright, which is making natural dyes to use in cosmetics.
Green Innovations Inc., which has devised a way to convert discarded tires to crude oil.
Neptune Purification, which uses solar energy to purify water.
The six finalist teams pitched their wares to BEST attendees who made their way among the six booths. Those attendees, including CEOs and investors, cast ballots that determined the winning idea. The teams were judge on their pitch, their idea's potential impact, commercialization potential, whether a prototype is at a workable stage, the product's overall potential and the intangible "X factor."
The cleantech umbrella term covers everything from software development to hydroponic gardening and electric vehicles, among other categories.
Wells Fargo and PSU combined forces on the contest for the first time. Ecoworks also provided funding for the awards.
Comments
If you are commenting using a Facebook account, your profile information may be displayed with your comment depending on your privacy settings. By leaving the 'Post to Facebook' box selected, your comment will be published to your Facebook profile in addition to the space below.