British energy minister cobbling Oregon partnerships
By Andy Giegerich
Digital Managing Editor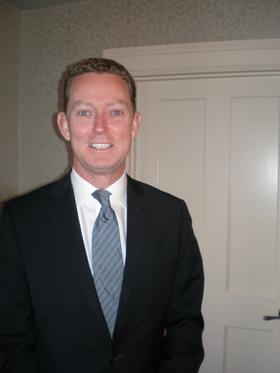 Greg Barker, the U.K.'s minister of energy and climate change, wants to work with Oregon officials on wave energy and other renewable initiatives.
Britain's top energy representative wants to forge partnerships that would encourage more renewable power developments with his American counterparts.
Greg Barker, who's the country's minster of energy and climate change, simply believes there's room for greater collaboration between the two countries on commercializing wave and wind energy technologies, among other efforts.
"We each bring something slightly different to the party," said Barker, who was in Portland Wednesday as part of a West Coast series of visits with elected officials and other energy industry stakeholders. "There's certainly a desire to work with partners in Oregon."
Those partners include the Oregon Wave Energy Trust, with which Barker met Wednesday afternoon. He also spent time with Oregon Gov. John Kitzhaber in Salem and is in Seattle talking with Washington officials today.
Barker and Kitzhaber discussed potential policy tools that would drive "pro-growth, low-carbon strategies."
Barker was appointed by British Prime Minister David Cameron to oversee ways the country can meet aggressive climate-protection goals. The country began working in 1990 to reduce its carbon-emissions levels by 80 percent by 2050.
The Cameron government wants to do so in a way that's "pro-growth and cost-effective," Barker said.
"We see that if we approach this from a pro-business, pro-innovation framework, a positive climate agenda can actually drive growth," he said.
Barker views wave energy as one of those growth areas, with the market hitting a potential $500 billion by 2050. The UK alone has the potential to derive 27 gigawatts of energy from marine-generated power.
Comments
If you are commenting using a Facebook account, your profile information may be displayed with your comment depending on your privacy settings. By leaving the 'Post to Facebook' box selected, your comment will be published to your Facebook profile in addition to the space below.