Covanta amps waste-to-energy efforts, re-ups Oregon contract (Photos)
By Andy Giegerich
Digital Managing Editor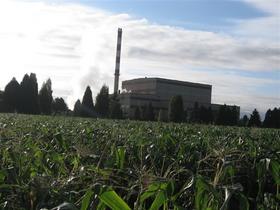 Covanta Energy and Marion County have extended a waste collection contract that will give Covanta more trash to convert into energy. Click through for a look at parts of Covanta's Brooks, Ore. facility.
Covanta Energy and Marion County have extended a partnership that effectively converts garbage into energy and prevents more waste from entering landfills.
Covanta Marion Inc., a subsidiary of Covanta Energy Corp. (NYSE: CVA) and the county that hosts Oregon's capitol city will work together for another five years starting in September 2014. That's the same time an existing 30-year agreement expires.
---
Waste-to-energy: Behind the scenes at Covanta's Marion County operation
---
The Marion County Board of Commissioners approved the agreement.
Covanta officials, who operate 41 such energy-from-waste facilities in North America, recently began more actively touting their systems. The U.S. lags far behind several European countries in terms of diverting waste from landfills. Some 69 percent of Americans' waste goes into landfills, compared to 3 percent in Denmark and 0 percent in Germany. The U.S. sends 7 percent of its trash toward waste-to-energy programs, compared to 54 percent in Denmark and 38 percent in Germany.
In Marion County, Covanta's facility has converted approximately 5 million tons of municipal solid waste into approximately 2.2 million megawatt hours of energy. That's enough to power 190,000-plus homes for a year.
The facility has also recovered and recycled approximately 100,000 tons of metal, or enough steel to build more than 80,000 automobiles. The steel is collected through a system of magnetic drums and filters that procure non-ferrous metals and other recyclable goods.
Covanta's leaders say the company has reduced approximately 5 million tons of greenhouse gases based on national averages. That's the same as averting greenhouse gases from nearly 950,000 passenger vehicles.
Comments
If you are commenting using a Facebook account, your profile information may be displayed with your comment depending on your privacy settings. By leaving the 'Post to Facebook' box selected, your comment will be published to your Facebook profile in addition to the space below.