Earthen flooring, green insulation win Red List kudos
By Andy Giegerich
Digital Managing Editor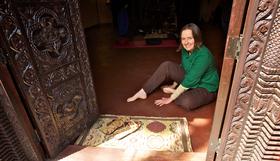 Sukita Reay Crimmel's Clayin provides clean flooring options.
The Oregon BEST's Red List Design Challenge has honored an earthen flooring specialist and a student who's developed plant-based insulation.
Sukita Reay Crimmel captured the Red List Challenge's first place award, of $10,000, for her Claylin Ready-Mix Earthen Flooring. The item is made from a blend of Oregon clay soil, sand, pigment and chopped straw that's hand-troweled until smooth and sealed with a blend of beeswax and oils.
The product provides a greener option to traditional flooring options such as hardwood, carpeting and concrete.
Zander Eckblad, a University of Oregon undergrad, landed the $5,000 second-place award for a non-toxic, plant-based cellulose nano fiber insulation. Eckblad's development could be three times as effective as fiberglass insulation at one-eighth of the cost.
CNFs, commonly called wood pulp, consist of a concentration of nano fibers from the cellulose cell structures of green plants. An aerogel process then gives the fibers a solid, styrofoam-like form that is a highly efficient insulator due to its nano particle nature, creating resistance from both conduction and convection heat transfer.
"This competition has been a great opportunity to model interesting thinking about some very sticky problems," said Google's Mary Davidge, a competition judge, in a release. "In the course of the competition, the finalists had time to address one key problem well...and there's still more to solve."
Red List Design Challenge winners receive ongoing technical support and business mentorship as the products move toward commercialization.
"It's wonderful to see people respond so creatively to a call to develop nontoxic building materials that have real potential to reduce toxins in the built environment," said Johanna Brickman, Oregon BEST's director of collaborative innovation.
Comments
If you are commenting using a Facebook account, your profile information may be displayed with your comment depending on your privacy settings. By leaving the 'Post to Facebook' box selected, your comment will be published to your Facebook profile in addition to the space below.