Eat Here Now: Meet some of Portland's most sustainable food carts (Photos)
By Andy Giegerich
Digital Managing Editor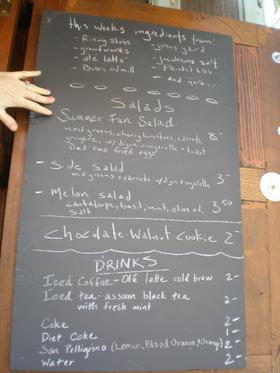 Portland's food carts such as Picnic, which lists its local suppliers on its menu, are doing their part to contribute to the city's culinary scene. Click through for a look at some of the city's greener, in terms of local sources and natural cuisine, cart options.
Portland's exploding food scene has given the city considerable cachet among cuisine-loving tourists who are visiting the city specifically to enjoy the local grub.
And while for many that means hitting restaurants such as Ned Ludd to sit and enjoy the area-grown and produced goods, it also means visiting the city's array of food carts. It's there that the freshest produce, meats and cheeses Oregon has to offer can be found for often-reasonable prices and in the form of sensible servings.
---
Carts for carts' sake : Portland's sustainable mobile food outlets
---
The food cart convention has become so strong — the city hosts more than 500 of them, with new "pods," or assemblies of carts in given lots or along city streets, seemingly popping up every week — that the Food Carts Portland website dedicated to the scene has become a must-read for tourists and Oregon foodies alike.
Our news-gathering partner website the Portland Business Journal will be featuring stories this week on some of the food doings, including Roam, a food cart conference that starts Friday, and Feast Portland, which starts Sept. 19.
We asked Brett Burmeister, the head honcho of the Food Carts Portland site, for suggestions on carts that pride themselves on local sourcing and sustainable practices. Click through the gallery above to see some of the places he put forward, along with a couple that the Sustainable Business Oregon team has grown to love over the last several years.
Editor's note: If you know of any carts that should be included here, snap a photo and send it to Andy Giegerich along with details on sourcing practices and other sustainability-related details.
Comments
If you are commenting using a Facebook account, your profile information may be displayed with your comment depending on your privacy settings. By leaving the 'Post to Facebook' box selected, your comment will be published to your Facebook profile in addition to the space below.