Energy groups want feds to reevaluate energy forecast methods
By Andy Giegerich
Digital Managing Editor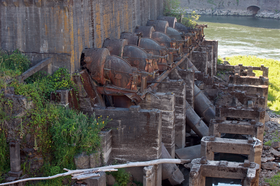 Cathy Cheney | Portland Business Journal
Portland General Electric's hydroelectric dam at Willamette Falls is one of the longest continuously operating power plants in North America. Hydropower and other renewable energy components want the U.S. to increase its expectations of the amount of renewable energy that could be used by the year 2040.
Some 100 groups have asked the Energy Information Administration to reconsider the methodology used in developing its renewable energy forecasts.
The groups are concerned that "EIA's estimates in past issues of the 'Annual Energy Outlook' for future electrical generation from renewable energy sources in the near- and mid-term have been unreasonably low and have not been borne out by actual experience."
For instance, the 2013 version of the report recommended that renewable energy sources such as biomass, hydropower, solar and wind comprise between 14 percent and 16 percent of the nation's electrical generation by 2040. However, renewables already accounted for 14.2 percent of net generation during the first six months of 2013, according to EIA's own data.
Local signers of the letter include Jan Lee of the Northwest Hydroelectric Association.
The groups noted that instead, renewables could easily contribute 31 percent of all energy by 2040.
Comments
If you are commenting using a Facebook account, your profile information may be displayed with your comment depending on your privacy settings. By leaving the 'Post to Facebook' box selected, your comment will be published to your Facebook profile in addition to the space below.