Green Sports Alliance gets its close-up in national piece
By Andy Giegerich
Digital Managing Editor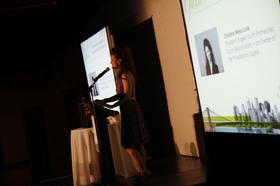 Christina Weiss Lurie, an owner of the Philadephia Eagles accepts the 2013 Green Sports Alliance Environmental Leadership Award at the Green Sports Gala. Weiss Lurie appeared on an edition of Bloomberg's Sportfolio that featured the Alliance.
Portland's Green Sports Alliance received a big-time media hit in the wake of its successful late-August summit.
The Bloomberg TV program Sportfolio featured a 20 minute-plus look at the Alliance and several of its more-decorated members. Host Rick Horrow, a sports business analyst who performed a broad economic study for the Portland Trail Blazers in 2004, detailed how Alliance chief Martin Tull works with such leaders as the Seattle Mariners Scott Jenkins and the New Orleans Saints and Pelicans Rita Benson LeBlanc to encourage the sports industry to fold in more sustainable philosophies into their venue and franchise management.
Christina Weiss Lurie, an owner of the Philadelphia Eagles who receive the Alliance's top operational honor at last month's summit, told Horrow in the piece how the team is looking to become carbon-neutral at Philadelphia's Lincoln Financial Field.
The story also featured insights from former New York Rangers goalie Mike Richter and Renew Merchandise CEO Harvey Schiller, whose company is making shirts from repurposed materials such as recycled bottles for such clients as the America's Cup.
Comments
If you are commenting using a Facebook account, your profile information may be displayed with your comment depending on your privacy settings. By leaving the 'Post to Facebook' box selected, your comment will be published to your Facebook profile in addition to the space below.