Scenes from the Green Sports Alliance Summit (Photos)
By Andy Giegerich
Digital Managing Editor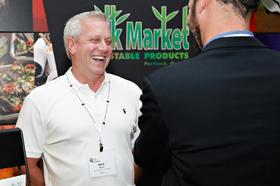 Representatives from Portland-based Stalkmarket exhibited at the 2013 Green Sports Alliance Summit in New York last week. Click through for more pictures from the event, which has become environmental sports champions preeminent gathering.
With a plethora of sports industry titans mixing with the environmental business world's sharpest minds, the 2013 Green Sports Alliance Summit was clearly the place to be last week.
The Portland-based Alliance held the event in New York, in which much of the sports world operates, for the first time. Some 500 attendees hit the event while another 80 green sports experts gave presentations.
---
The Sporting Scene: A glimpse inside last week's Green Sports Alliance Summit
---
Those hitting the Summit included Pittsburgh Pirates Owner Bob Nutting. Philadelphia Eagles Owner Christina Weiss Lurie and New Orleans Saints and Pelicans owner Rita LeBlanc. Justin Zeulner, the Portland Trail Blazers' senior director of sustainability and public affairs, represented the Rose City along with Alliance Executive Director Martin Tull and the rest of the Alliance team.
Click through for a look at scenes from last week's Green Sports Alliance Summit.
Comments
If you are commenting using a Facebook account, your profile information may be displayed with your comment depending on your privacy settings. By leaving the 'Post to Facebook' box selected, your comment will be published to your Facebook profile in addition to the space below.