I-5 bridge tolls could hammer East Portland's environment
By Andy Giegerich
Digital Managing Editor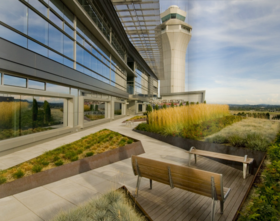 A new study suggests that pending tolls along Interstate 5 could make Portland International Airport patrons late for their flights.
A noted area economist said that tolls on the Columbia River Crossing could wreak havoc on the environment near another Oregon-Washington bridge.
Joe Cortright, a principal with Impresa Inc., projected that plans for adding tolls to the current I-5 bridge would shift nearly 50,000 vehicles daily to Interstate 205's Glenn Jackson Bridge. The movement would jam the bridge to capacity, affecting ingress and egress around the Portland International Airport.
"This would be bad for the environment: Diversion means that people who would ordinarily travel I-5, travel a longer distance out of their way, to avoid paying the toll," Cortright said. "Given the value of time and the cost of vehicle operations used in the model, the typical traveler might go four or five miles out of their way to avoid paying a toll. With an additional 50,000 cars each day diverting, that would mean millions of additional miles of travel."
Cortright offered an informal estimate: If a driver travels two miles to avoid the toll, and 50,000 also try to do so that day, that's 100,000 additional vehicle miles traveled per day. That comes out to 36.5 million additional vehicle miles traveled per year.
"Also, because of all this added traffic on I-205, congestion there would be much worse, cutting into fuel economy and raising emissions," Cortright said.
The study's main economical point is that travelers could find it difficult to reach their outgoing flights in time.
"The truly economically important and time-critical destination, if there is one, in the Portland area is Portland International Airport," Cortright said. "Adding 50,000 cars to I-205 would make it harder for everyone in the region to get to and from PDX. CRC has not evaluated or disclosed what the travel time and economic impacts would be of this level of diversion."
Comments
If you are commenting using a Facebook account, your profile information may be displayed with your comment depending on your privacy settings. By leaving the 'Post to Facebook' box selected, your comment will be published to your Facebook profile in addition to the space below.