There's something about the water: A Bull Run Watershed tour glimpse (Photos)
By Andy Giegerich
Digital Managing Editor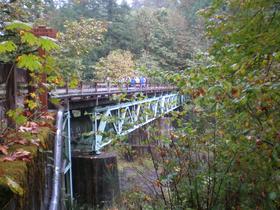 The Bull Run Watershed tours offered by the city of Portland's water bureau provide a coveted (the tours, which generally run between May and October, are sold out months ahead of time) chance to explore the pristine area that provides the city's drinkable water. Click through for a glimpse at some of the Bull Run sights.
While many bemoaned the rain last Sunday, I spent the day watching those very droplets become part of our drinking water.
The trip I took to the Bull Run Watershed, conducted by the Portland Water Bureau in cooperation with the Forest Service, was something I'd wanted to do for about a decade. It was always intriguing because the Watershed is very much closed — security guards occupy the site at all times, we weren't allowed to shoot pictures inside one of the dams — to the public.
---
Pristine water, and that's no bull: Pictures from the Bull Run Watershed
---
Two recent factors finally led me to sign up for the tour.
First, I'm hearing more and more about how water is the new oil, in the sense of how valued it's becoming. That panic will provide fodder for several stories in coming months.
Second, Jon Bell's awesome book "On Mount Hood" contains Bell's masterful description of how the Bull Run Watershed works (far better than I'll attempt to do here; it's, seriously, best that you take the tour yourself, as well as read Bell's book). Indeed, another person on Sunday's tour said a friend of hers was inspired to take the tour after reading "On Mount Hood" and subsequently recommended it to other friends. (Bell's a frequent contributor to the Portland Business Journal)
The water from the Bull Run River is the primary drinking water source for Portlanders. It also provides water for more than 20 percent of Oregonians. As such, it's fascinating to see both the source of the water as well as places where it's, essentially, cleaned and sent into our homes and businesses.
Comments
If you are commenting using a Facebook account, your profile information may be displayed with your comment depending on your privacy settings. By leaving the 'Post to Facebook' box selected, your comment will be published to your Facebook profile in addition to the space below.