Pacific Power lands EPA honors for Blue Sky marketing program
By Andy Giegerich
Digital Managing Editor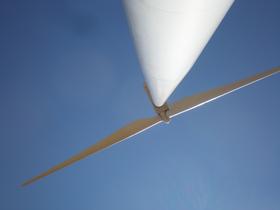 The PaTu Wind Facility, in Wasco, features utility-scale wind turbines used by the likes of Pacific Power to power homes and businesses as part of the company's Blue Sky renewable energy program.
Pacific Power has landed recognition for a customer education campaign that provides plenty of energy education.
The Portland utility captured Best Marketing Campaign honors among the 2013 Green Power Leadership Award winners. The designation was accorded by the Center for Resource Solutions and the U.S. Environmental Protection Agency.
Pacific Power set up a campaign to educate customers about its Blue Sky renewable energy through the company's call centers. Through 260-plus customer service employees, the call centers enrolled more than 12,000 customers in 2012. About 30,000 customers have enrolled since Pacific Power launched since launching the ongoing initiative in July 2011.
The award was meted out Sept. 23 during the 2013 Renewable Energy Markets conference in Austin, Texas. PacifiCorp was recognized for its efforts in rolling out a campaign to educate customers about renewable energy through the company's call centers.
The voluntary Blue Sky program allows customers to elect to support renewable energy in the region. It costs as little as $1.95 a month and backs construction of wind, solar, geothermal, low-emission biomass or other certified renewable energy sources.
Comments
If you are commenting using a Facebook account, your profile information may be displayed with your comment depending on your privacy settings. By leaving the 'Post to Facebook' box selected, your comment will be published to your Facebook profile in addition to the space below.